The Night The Stars Fell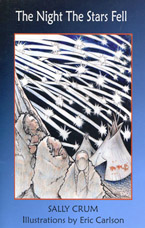 Thousands of meteors blazed through the night and into the morning of November 12, 1833, astounding the entire world. What caused this spectacular light show? It was the Leonid meteor shower.
In Sally's latest book, lively poems and illustrations — and a bit of culture and astronomy — entice readers to experience one of the most spectacular sights of human history. A discussion guide rounds out this delightful children's book.
"Sparkling through the eyes of children around the world . . . Magic!" — Danni Langdon, Desert Stargazer

"As a children's librarian, I find this book delightful. Ms. Crum has creatively woven a scientific/historic event into a fun, funny, and informative read, with fabulous illustrations." — Jan S. Ryan, Crawford Public Library, Crawford, Colorado


"The Night The Stars Fell" is in Smashwords Premium Catalog, and is available in ebook format through any of their favorite retailers.
Go to Purchase Page for The Night the Stars Fell

Race to the Moonrise — An Ancient Journey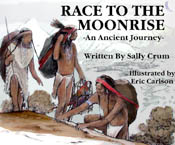 Across the plaza a girl ran toward them. It was Little Basket, Long Legs' ten-year-old sister. He smiled as he watched her lope easily across the plaza, her long braids flying behind her. She runs as I do, he thought.
"Long Legs, Uncle, come quickly!" she said, her brown eyes flashing with excitement. "There are travelers from the Far North in our house. Perhaps they have word of our father!"
Race to the Moonrise — An Ancient Journey is the delightful story of two engaging children living in northern Mexico around 1200 A.D.; Little Basket is a young girl with special powers and Long Legs is her brother, who is training to be a long-distance trader. They must travel on a long and dangerous journey from their home all the way to the home of the people of the Far North (in an area now known as Chimney Rock, in present-day southwestern Colorado). While following the adventures of these two amazing children, we also learn about many of the early civilizations and cultures.
Race to the Moonrise was awarded the Gold Medal for Children's Fiction from Colorado Independent Publishers, Inc.
Go to Purchase Page for Race to the Moonrise
INTERACTIVE TEACHER'S GUIDE ONLINE
SEE LONG LEGS' JOURNEY ON GOOGLE EARTH HERE
AND DOWNLOAD THE .KMZ FILE TO VIEW ON YOUR COMPUTER.

Race to the River — The Ancient Journey Continues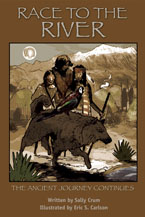 In Race to the River, Sally Crum's exciting sequel to Race to the Moonrise — An Ancient Journey, a young Native American brother and sister continue a fantastic 13th-century journey to return their injured father from today's southern Colorado to their home in Casas Grandes, Mexico. Meanwhile, three unlikely emissaries of peace embark from the California coast with hopes of averting an attack by Mojave Indians on their village.
They race against time as they cross the desert to reach the Colorado River. The paths of both groups of travelers are destined to meet — and each journey's outcome is unknowingly influenced by the other. In this sequel readers continue to learn about the prehistory of the Southwest in addition to that of several Southern California Native groups.
Go to Purchase Page for Race to the River

People of the Red Earth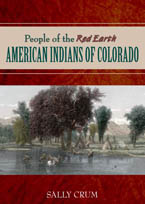 People of the Red Earth: American Indians of Colorado, originally published in 1996, provides a lively cultural tour of Ice Age mammoth hunters to later hunter-gatherers and part-time farmers. More recent tribes are also discussed, including the Ute, Shoshone, Apache, Navajo, Comanche, Arapaho, and Cheyenne.
A new section in the book provides summaries of significant archaeological discoveries made since the original publication. Also included in this section is updated news about Colorado's Native peoples, ancestral and present.
Combining information from archaeological research and historical and ethnographic literature, the book is enhanced by the author's personal knowledge of the area. Susan Collins, State Archaeologist of Colorado, says, "The informative text and illustrations make this book a treasure to be used and shared." Rock art specialist Sally Cole, author of Legacy on Stone: Rock Art of the Colorado Plateau and Four Corners Region, states that "Readers have the opportunity to see American Indian history as dynamic, complex and, most significantly, as part of present-day society."
Go to Purchase Page for People of the Red Earth
---