Book Reviews
People of the Red Earth
"This marvelous book will delight readers looking for an extremely well-written overview of the earliest peoples and tribes . . . in Colorado. . . I would award it my highest recommendation. . ."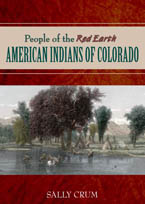 For at least 12,000 years, Native Americans laid claim to the land that, with the coming of the Europeans, came to be called Colorado. From paleolithic hunters to contemporary Arapahoe, Ute, and Shoshone peoples, Native Americans have adapted again and again to the demands of this unpredictable land, its climate and its invaders. Their history and tenacity are revealed in Colorado archaeologist Sally Crum's People Of The Red Earth.
Lively, accessible, authoritative, and exceptionally well written for the non-specialist general reader, People Of The Red Earth explains how the earliest agriculturists kept their fields green despite long droughts, how hunters knapped tools and points so precise they can barely be duplicated, and how features announced a warrior's reputation.
Each culture (from the Anasazi to the Arapahoes) has its own medicinal herbs, shaman's powers, women's dress styles, children's games, lovesongs, battles and truces. Crum's research and archaeological experience brings all this rich heritage to life again. Crum also shows how the story of Colorado's earliest inhabitants continues to be rewritten through new techniques in excavation, lab research, and dating tests.
Organized by era and region, People Of The Red Earth is also a comprehensive guide to recommended archaeological sites, museums, and cultural centers. Crum's informative text is further enhanced by numerous maps, drawings and historic photographs.
A splendid work of exemplary scholarship. — Midwest Book Review
---
Through the centuries, Colorado has been home to a wide variety of Native American groups. Colorado archaeologist Crum here begins with the earliest occupants, the paleo-Indians, then discusses the succeeding Archaic, Anasazi, and Fremont cultures. She then examines the cultures of the Plains, the Mountain tribes, and the Athabascan-speaking groups from the North and follows these groups to where they reside today.
Crum achieves an overview of the cultural elements and history of each group, which she complements with suggestions of relevant places to visit and pertinent further reading. Appropriately, since only the Utes now live on reservations in Colorado, the author includes a discussion of the state's contemporary urban Indian population. For Colorado and general collections that need a basic overview of the Indians in that area. — Mary B. Davis, Huntington Free Lib., N.Y. Copyright 1996 Reed Business Information, Inc.
---
Race to the Moonrise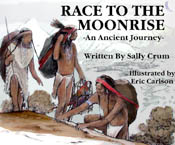 Race To The Moonrise is a carefully researched adventure tale of two young Mogollon trader children who run an exciting race against the full moonrise in prehistoric (1200 A.D.) northern Mexico and southwestern U.S. Little Basket, the young girl prophetess and her brother Long Legs make the arduous journey from their village in northern Mexico to the area of Chimney Rock and Finger Rocks, near the Four Corners area of today, before the 19th full moonrise, to participate in a religious ceremony.
All details are carefully researched and help authenticate this exciting children's educational action adventure book. Note: Race To The Moonrise was approved for use with Native American children by the Intertribal Cultural Committee of the Council for Indian Education.
It is fascinating to follow the ebb and flow of this exciting tale. So much of early Native American prehistory is not known, yet what can be surmised of these ancient MesoAmericans is both intriguing and of enduring value to the young people of today.
Race To The Moonrise is a fine work to honor one's ancestors with. — Midwest Book Review
---
The previous reviewers said it all; this book is great! I used it with my Honors Social Studies and Language Arts class, and you could have heard a pin drop! Well done, Sally Crum! — Pamelia L. Hendricks, HUSD Teacher


---
Race to the River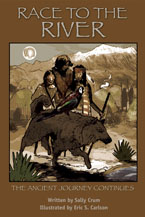 Race to the River is another enchanting chapter in the story of Long Legs and Little Basket. The plot and the characters are exciting and believable, and what's more, when you finish the book you realize you've just had a highly enjoyable lesson in history! If all my history classes had been this much fun, I no doubt would have majored in the subject.
I look forward to more work from author Sally Crum. — Jan S. Ryan (Children's Librarian and retired National Park Ranger)